Want to build a better, more beautiful survey?
Our survey theme creator is easy to use for anyone, even those not familiar with web design! It's all click and choose for the colors, update some text, add an image, and you are on your way!
There are 12 different areas you can customize the color to make your page truly unique!


Click the little radio dial next to the area you want to change and a color palette will come up! Simply click on the color you prefer, or enter the Hex Code for the more advanced users.
Menu Background Color
Menu Border Color
Background Color
Header Text Color
Tagline Text Color
Navigation Step Completed Text Color
Navigation Completed Background Color
Navigation Step Active Background Color
Navigation Text Color
Navigation Step Divider Color
Navigation Incomplete Step Text Color
Navigation Incomplete Step Background Color
You can also handle the Image Settings for the background as a Cover Image or Offset Image:
You can even slide the background image around so it goes exactly where you want it to!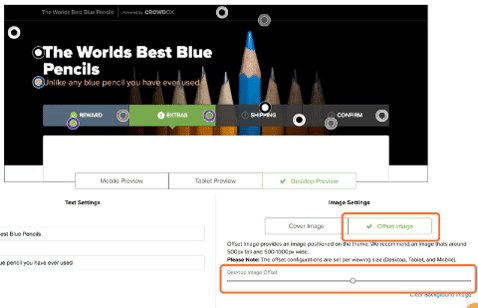 You can also preview the Mobile, Tablet and Desktop Preview versions of the Survey!
And here are some survey designs we love!


The Bodi Bag


Wado


And some wide-angle designs...
Thalia Guitar Capos


SnapPower Charger